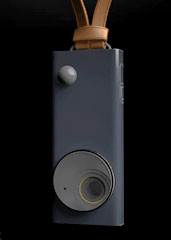 Cameras aren't alive.
They don't eat.
They don't breathe.
They don't sleep.
They don't have a mind of their own to just start snapping pictures anytime they feel like it.
Right, keep telling yourself that.
Prepare to meet
Autographer
, a self-aware, hands-free digital camera that spontaneously shoots studio-quality photos while dangling from around your neck, available in November and accepting waiting-list registrations now.
If HAL 9000 were a paparazzo, he would look something like this: a black, rectangle-shaped device with a single, 136-degree eye-view lens... that has a really big brain.
See, all you need to do is hang this thing around your neck, turn it on and go do interesting things (walk in SoBe, run with the bulls, split a sandwich with LeBron). Every time a perfect photo op occurs, the camera's five built-in sensors will automatically signal the lens to start continuously shooting.
And if you want to preview the images as they're being captured, there's an accompanying app you can download for your phone. It'll also let you check the battery life, see how much memory is left on the camera and adjust any settings.
You'll want to leave the "enslave all humans" option off.