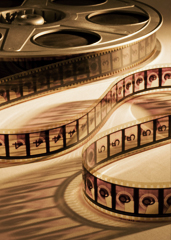 Silent film. It's making a comeback.
First, there was
The Artist
. It won a bunch of Oscars.
Then, there was... um... hmm...
Oh right, your phone.
Behold
Vintagio
, an app that turns your iPhone videos into Chaplin-esque silent movies, available now.
That's right, what you've got here is a filter for making all your cell phone clips look like an old-timey newsreel. Well, a high-definition old-timey newsreel.
So the next time you're at a smoky speakeasy in the O4W and a flash burlesque mime show breaks out (or you're with a date who'd really look good bathed in sepia), just press record. Then, create a title, select a vintage-inspired filter, add in some subtitles, and boom, you've got a grainy silent flick complete with scratchy piano soundtrack.
After you're done making inaudible magic, go ahead and upload your masterpiece to the app's YouTube channel. It's full of everyone else's ancient-looking short films.
And probably a few Korean pop videos.