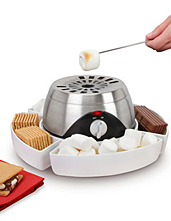 Mastery of fire.
It's what lifted us out of our early beginnings and separated us from the apes.
Then, a bunch of other stuff followed. Tools. Math. DNA mapping. Twitter.
Yet, as far as we've come, creating campfire-style s'mores in one's house has escaped our grasp as a species.
Until today.
Meet the
Indoor Flameless Marshmallow Roaster
, a handy electric heater for toasting marshmallows in your living room, available online now.
Sure, we're just getting into fall. The air has changed. The leaves seem to have a new tan. And by all accounts, prime camping/hiking season is here, where gathering some logs and an open space equals all the setup one needs to roast marshmallows for killer s'mores.
But now with this, all you need is some counter space, a wall outlet and a trip to the store for the key ingredients involved with said snack (graham crackers, chocolate, double-sized marshmallows). Turn it on and use the stainless-steel forks to sear those sugar pillows to perfection over a flameless heater, and alakazam: indoor s'mores.
It should also please you that the whole thing sits on a divided tray, providing 360 degrees of easy access to the chocolaty treats.
Still may want to avoid operating it in bed, though.