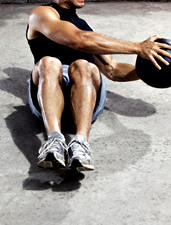 Your to-do list for this past weekend: pound out 30 miles on your bike. Save the children. Reward yourself with some football.
Your actual accomplishments this past weekend: went to a bar. Watched baseball. Watched golf. Then watched football anyway.
We're not here to judge, but if you think this is a situation that needs some fixing, allow us to insert a little shame and social pressure into the equation.
Perhaps via
Lift
, a new app that forces you to track your progress in those things you'd like to do every day, available now.
First up: the shame part. You'll create "habits" in the app, otherwise known as goals. "Breathing" is too easy. We're talking things like doing sit-ups in the morning, getting seven hours of sleep, playing your saxophone at night. (And soon: winning your nightly argument with your neighbor over your saxophone playing.)
Before long, you'll be able to summon stats on how often you're hitting your goal, and weekly and monthly frequency. It will even let you know if you're on a DiMaggio-like streak.
Now, the peer-pressure part. You can social network this thing with other users so they can see how you're making out and send you props when you're doing well.
Not like theater props. Like compliments.