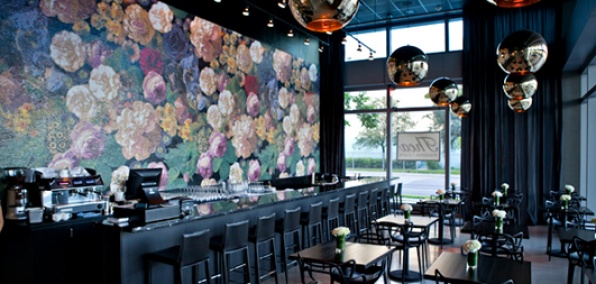 Every three seconds, a baby is born somewhere in the world.

There, now you've just learned something completely useless.

Also, every three minutes, a charred-crust pizza is born in Wynwood.

There, now you've just learned about lunch.

Presenting Thea Pizzeria and Cafe, a fast-moving spot (from some Joey's vets) for rapid-fire Neapolitan pies, now open.

This place is exactly the opposite of what you'd expect from a neighborhood pizzeria: all sexy dark wood, thick marble slabs and a glittering Italian-tile mosaic that's set against a long stretch of bar. The kind that's built for speed. And consuming sangiovese.

See, the deal here is handmade pies flash-baked at breakneck speeds in a massive oven. So the crust is blackened just the right amount. And the spicy salami topping is crisped to near perfection.

Of course, this whole quick-pie deal seems like the kind of thing that could come in handy during breakfast. So give that a shot. They've got a morning pizza on the menu that's essentially a bacon-and-egg sandwich... disguised as a pizza.

You love a slice with a secret.