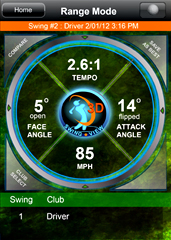 Instant gratification.
It's the phenomenon that occurs when you do things like buy an island. Or eat a Frito. Or invent a word like "squeeb" and then say it out loud for the first time.
Squeeb.
Anyway, turns out that same phenomenon can now be applied to your golf game...
Thanks in no small part to the existence of the
SwingSmart Golf Analyzer
, a tiny sensor that attaches to your golf club and provides instant swing-by-swing feedback on its corresponding iPhone app, available now.
You've seen these self-help golf swing things before. They're kind of everywhere. But the beauty here is that you're able to see where you've gone right or wrong immediately after each swing as opposed to waiting for some app to compile a bunch of data after 18 holes.
You'll go online and grab that sensor. It's small. Looks like one of those Bluetooth earpieces that you'd never wear. (Unless you're alone. Or an asshole.) And once you've procured your robot golf pro (the thing was designed by CBS golf analyst and tour pro Peter Kostis), all that's left to do is download the free app, attach the sensor to your club and hit the links.
It'll provide analysis on anything from swing tempo and attack angle to swing speed and face angle. It's all automatically transferred from your club to your phone.
It's no squeeb, but still.