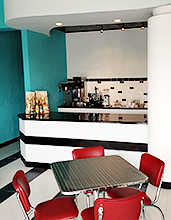 Okay, two weekdays, that's enough.
We give you permission to start planning your weekend.
Here's what we've got so far...
You're relaxing in a coastal café. You've got strong coffee in one hand. A marvelously pressed sandwich in the other.
And, surprise, you're doing it all at a restaurant in East Dallas.
Meet
Havana Cafe
, the area's newest (and only) refuge for authentic Cuban food and breezy Latin vibes, opening this Friday in Casa Linda.
To imagine this place, just picture a tiny diner with tile floors, simple metal tables and a little black-and-white coffee bar. Now, paint the walls turquoise, throw in a Cuban flag and polish everything with some art deco styling. Great. Now all you need is a guy in the kitchen who knows a thing or two about ropa vieja.
... Checking inside kitchen... yup, he's in there.
So this is all good news for your regular roast-meat cravings. Just step inside the small space and grab a red leather-padded chair. Order a Cuban sandwich. The kind with tender pork, Swiss cheese, criollo-style ham and bread imported straight from Miami. Or chicken with yellow rice and sofrito sauce. That should also do the trick.
And to drink: strong, sweet Cuban espresso. Plus whatever you bring. Because there's no liquor license, but it is BYOB.
And a little rum never hurt anything.