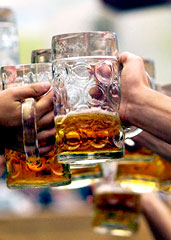 When you hear "Okt...," your ears perk up.
You know what's coming.
And it's good.
And here it is...
Don your finest lederhosen for
Oktoberfest NYC 2012
, a patch of beer-soaked Midtown land stretching as far as the eye can see and celebrating Germany's greatest cultural contribution, starting Saturday.
There's a lot of potential here. You just need to dive into the fray and tap it. It's 10,000 square feet of everything you love about Germany... and some other stuff. Beer: yes. Oh God yes. Various würstl and pretzels: affirmative. The musical stylings of Bavarian sensations Edelweiss Oompah: you know it.
Massive crowds and "high-quality souvenirs": well, yeah, those too. But you're going to press on and hope for a Hasselhoff sighting.
It goes without saying that you're coming in a group. Preferably a group of friends ready to say "ja" while crashing mugs together. You've got options. You can just throw yourself on the mercy of the masses and move around the festival. A stein here and a round of Jäger shot-ski shots there (yes, shots taken in a group, from a ski).
Or you can reserve a table, a waitress and a package of beer/foodstuffs ahead of time. You'll get several German beers, a waitress in culturally accurate costume and an air of civility.
Which is key in any fest situation.