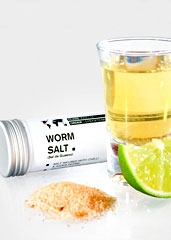 Today, we're going to talk about the worm.
No, not the dance move (maybe that'll be Friday).
But rather, the little guy floating in the bottom of your tequila bottle.
We sort of think he'd look better rimmed around your margarita.
Behold
Worm Tequila Salt
, a cocktail (or french fry) garnish made from rock salt, chili pepper and ground-up worms, available now.
Really, this isn't all that different from some regular old table salt. Except, you know, for the whole pulverized worm thing going on in here.
See, some guys decided it would be a good idea (the jury is still out) to take worms that live inside the agave plant (and typically end up inside the mezcal you import from Tijuana) and grind them into a coarse salt mix with a few chili flakes. Okay, you're intrigued/slightly nauseous.
The result of this blend: a smoky and earthy spice that's ideal as the rim of your margarita. Or as the seasoning on your popcorn, rub on your barbecue chicken and secret ingredient in your Dolphins tailgate chili.
Just make sure nobody is allergic to invertebrates first.