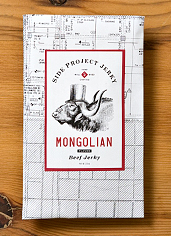 First, you'll want to grab a cannon.
Then some type of duck call.
Or, like, a shotgun that shoots Mellencamp songs instead of bullets.
And if that doesn't exist yet, definitely invent that.
Because if now isn't the perfect time to whip out as many cliché beef-jerky-related scenarios as possible, there may not be one...
Prepare your iron constitution for
Side Project Jerky
, a new batch of dehydrated meatstuffs from a few guys in Philly who aren't afraid to lace your beef sticks with tamari and cheddar cheese, available online now.
Dogs have bones. Jerry Tarkanian had towels. And now, you have this. Specifically, three varieties of deliciousness butchered down into thin strips from USDA steamship top round and judiciously seasoned by Paul Bunyan himself.
Actually, their names are Marcos, Mark and Daniel. Close enough, though, thanks in no small part to their
Original
jerky being flavored with things like tamari and cheddar cheese powder. And those
Mongolian
sticks that were marinated in brown sugar, ginger, garlic, scallions and sesame oil.
They're the proteins you'll want to grab fistfuls of on your way to a parking lot filled with open tailgates on a Sunday afternoon. Or anytime you're wearing camo. Or a tie... Doesn't matter, really.
Seriously, though... Mellencamp shotgun. Look into it.