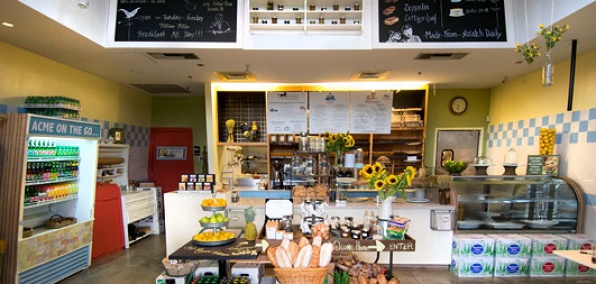 The crew from the Federal.

Seems they won't stop until the entire city is in their back pocket.

Banh mi and pork belly in Downtown: not enough.

Spicy pig wings and duck on Biscayne: still not enough.

Now, they've gone and planted their flag in Midtown. A hot, gooey, sticky bun of a flag.

Behold Acme Bakery & Coffee, the Pious Pig's third installment and home to things like pork pastries and damn fine cups of coffee, open today in Midtown.

If Starbucks were around in the '50s, had some soul and were founded by a bunch of pig-loving food guys, it would probably look something like this. Milk-crate shelves, chalkboard menus, whitewashed tables, candy-colored tiles and brownies... studded with thick-cut bacon (these are the Federal folks, after all).

A slow weekend morning: that's when you'll stumble into this shop for a mug of hot Panther coffee and a jalapeño scone. Or, if you typically don't do your stumbling on the weekend till after 1pm, a quick Bishop's meat loaf, Vermont cheddar and sliced pickle sandwich to go works, too.

Either way, whatever you do, make sure you check out their sticky bun program. It's a daily rotating selection of house specials like maple pecan, guava and cheese.

More places need sticky bun programs.