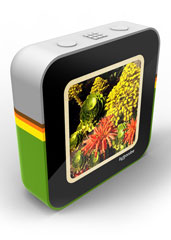 Ansel Adams had Yosemite. Henri Cartier-Bresson had Paris. Art Shay had Chicago.
And you... well, you have last weekend.
Now to get those pictures off your phone and onto a suitable canvas.
Meet
Instacube
, a magic cube that allows your Instagram and Facebook photos to appear on bedside tables and in living rooms everywhere, available now for preorder.
Basically, it's an electronic photo frame, albeit with some major technical improvements. Namely: a touchscreen interface, giant resolution, a design inspired by a 1970s-era Polaroid camera and a button to toggle between your live feeds off Instagram and Facebook.
Setup is pretty easy. You plug it in and connect to your home wireless network. Then use it to log into your Instagram and Facebook accounts. Suddenly, those digital images you've snapped of everything from your sleeping dog to that hauntingly beautiful girl at the club are now in a slideshow for all to see.
One little tiny caveat: right now, it's still in startup mode on Kickstarter. But starting in Q2 2013, your photos could be on their way to the audience they long for.
Plus, your dog can finally see his photos.