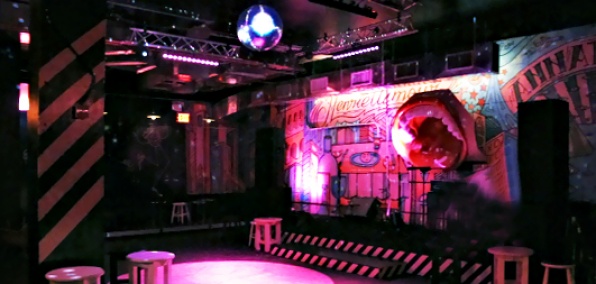 Live fast. Die young. Leave a beautiful corpse.

You've heard this mantra.

Well here's the club version...

It's Chez André, a neon-pink world of perpetual dancing and the ripe fruits of Fashion Week from the Andrés Saraiva and Balazs, existent through September only at the Standard, East Village.

The place is a rock-and-roll hotel room in club form. It's just awaiting magnificent destruction. You've heard whispers of it. Possibly from someone who'd just finished a few runway laps. But they were just whispers. Now, for a little while at least, it's real—a graffiti-covered dugout of Parisian house and well-tuned celebrity nonchalance, outfitted with a makeshift stage and a giant Stones-esque plastic mouth, for some reason.

But the main feature: more concentrated human aesthetic splendor than anywhere else in the city.

So, getting there: see that small structure off to the right of the hotel lobby entrance? Bingo. Tell the door guy you're the "Majesty's Consort of..." and then trail off. Don't break eye contact. We'll assume you're in now. So descend the stairs, past the '80s-script neon sign that makes it look like you're headed somewhere Kelly Kapowski would be waiting with illicit substances.

You can hear the music now. Walk toward it. Find champagne. Blue Steel the hell out of everyone.

And remember, this is a limited-time offer.
Note:
Chez André, now open nightly for Fashion Week, then Wednesday to Sunday through September