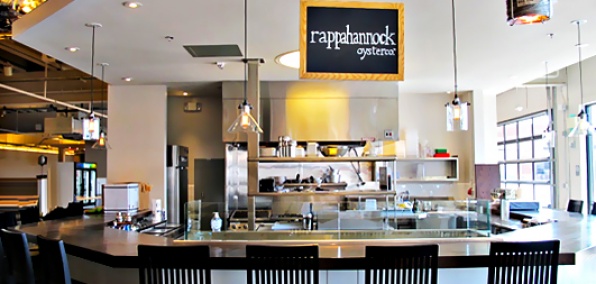 Congratulations.

You made it to the end of another hard-fought week.

We feel like you've earned a little something. A treat, if you will. Just a teeny, tiny... warehouse filled with steak and oysters and beer.

It's called Union Market, it's a massive temple full of eat-in and take-out culinary wonders, and it opens tomorrow.

You're going to want to come here to stock up for your next big gathering (let's call it "watching football"). On your to-get list: red-hot gherkins from Oh! Pickles, maybe some T-bones from Harvey's meats and soon, a passel of fry-at-home duck confit empanadas from DC Empanadas. You know, the essentials.

At some point, you might get hungry. (Funny how massive quantities of food will do that to you.) At that point, you will be beyond well taken care of. There's a gleaming, 20-seat raw bar from Rappahannock River Oysters, with bivalves, two kinds of oyster shooters and a Flying Dog beer brewed with oysters.

In a few weeks, you'll also be able to hit Gina Chersevani's Buffalo and Bergen, a New York–style soda counter, for an adult egg cream.

It's like a regular egg cream, except it can vote.