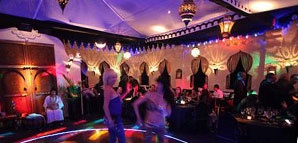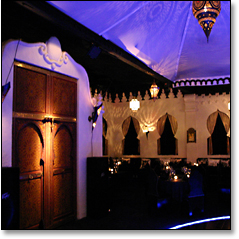 Nothing gets a lady more in the mood to shake her assets than watching other women flaunt theirs. Or so the saying goes.
Introducing
Ta-Zin
, a new Moroccan restaurant that takes its scantily clad dinner entertainment very seriously (as all restaurants should), now open in South Beach.
Ta-Zin's lovely belly dancers are a steady and reliable team that ply you with entertainment every half-hour (but it's more like non-stop) using a full arsenal of ancient Moroccan tricks, including sword balancing, fire juggling and finger chiming (perfect for when you absentmindedly leave your finger chimes at home). This isn't a place to quietly get to know your date; it's a place to make sure she shares your appreciation for the arts.
You'll do most of your culture-admiring from the large dining room. Outfitted with tented canopies, stucco arches and punched tin lanterns, it doesn't so much remind you of Marrakech as it does a disco-lit lounge out of an '80s SNL sketch
about
Marrakech.
We meant that in the most charming way possible...