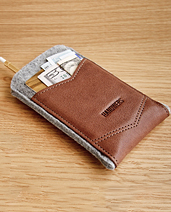 Spotted yesterday: jackets. Long pants. Confused looks by tourists wearing shorts.
So just like that, anticipation of the brisk fall and bruising winter is clearly at hand. For you, and your electronics.
Time to turn to Mother Russia. And her leather.
Presenting
Handwers
, a Soviet-based online shop of handsome handmade leather covers for your money and the stuff it buys, available now.
Think of these valuable-holsters as the kind of leathery goods that Ivan Drago would have employed to house his iPod Touch (or wad of crisp rubles) during a day of shopping in Moscow circa 1986. (Yeah, we know, it would have been a cassette Walkman at the time, but you get our drift.)
So when the cold winds blow this season and you need a little vegetable-tanned, handcrafted leather cover for your laptop, iPad or money clip, look here. They're lined with 100% wool felt to protect whatever you've stuffed in there from the elements, and they'll look smashing laid out on a conference room table.
Kind of like the last leather-covered Russian you commiserated with in there.
We were also surprised Putin favored leather chaps during international business.