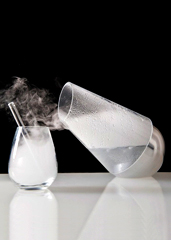 Enjoying a cocktail: always a pleasure.
You get to feel all different. Chuckle in an overly hearty way for no reason. Thoughtfully spin a rocks glass around while saying things like "The reason I called this meeting, Doug, is to discuss your future here at the firm..."
And we're happy to report that none of that's changing anytime soon.
But from now on, instead of drinking your gin, you'll just be inhaling it...
Behold the inevitable rise of
Le Whaf
, a horrifyingly magical carafe that turns garden-variety cocktails into inhalable vapor right before your eyes, available now.
Right about now, you're calling bullsh*t. And you should. Totally should. Because what we've essentially just told you is that you can put a Manhattan into a little vessel and it will turn into a fine, ingestible mist. But alas, it's true.
And considering this comes from the same guys behind inhalable caffeine and inhalable chocolate, you kind of saw this coming.
You'll go online and order one of these things from France (of course it's French). And soon, a cone-shaped, glass-and-stainless-steel carafe will arrive at your door. Make a cocktail, pour it in, watch as it turns into vapor and then inhale through the special glass straw it comes with.
And don't worry, the overall taste and alcohol content remain intact throughout the conversion process.
Secondhand smoke just got weird.