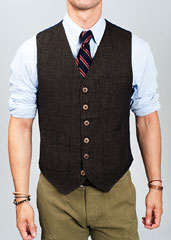 We just had a terrifying thought. Suppose this summer never ends.
That would mean no need to wear cable-knit sweaters. Or tweed sport coats. Or even anything in wide-wale corduroy.
Terrifying indeed. Luckily, weather still doesn't work that way (we think).
So you'll be able to prep for the fall with these two stores:
Haberdash Bespoke
, now open, and
Haberdash EDC
, opening its lower level Friday.
First of all: don't worry. Things are basically the same here. Except for where they're... not. Here's the breakdown. Haberdash Bespoke is still where you'll go for tailored items, because it's their single focus now. So if you're going on a semiformal apple-picking date and you need a shiny pair of brogues and an Italian suit, these are still your go-to guys.
But two doors down, you'll find a tricked-out lower level at the EDC shop. It's kind of a cross between a vintage workshop (old barn-wood tables, warehouse pulleys) and your parents' basement rec room when you were a teenager (mainly because there's a full bar ready for invite-only guests).
Oh, and there are clothes. Brand-new ones for fall. Lots of your old favorites: Baldwin Denim. Shirts by Rag & Bone. And fresh items, like the new line from much-heralded designer Todd Snyder, who apparently really knows what he's doing when it comes to shawl-collar crew sweaters.
So you have that in common.