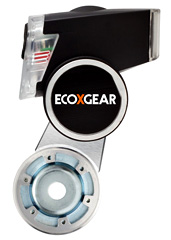 The last days of summer. You plan to go out swinging.
Or at least biking. Also: talking, texting, conference-calling, playing
Angry Birds
and quite possibly ordering a pizza. Simultaneously, of course. Never let the great outdoors get in the way of your productivity.
But you might need this:
EcoXPower
, a pedal-powered bike light that also has the convenient ability to keep all mobile gadgets primed and ready, available now.
You probably already have a good idea about how this thing works. There's a little gizmo that you hook onto your wheel and connect to the light. As you bike, the kinetic energy is converted and powers the light. Kids' stuff.
But the genius is that this device comes with a universal adapter that allows you to recharge your BlackBerry, iPhone, GPS system, etc. That means when you want to get off the grid for a little last bit of summer recuperation, you can do it. But also: you can still tell the Twitterverse that you're off the grid.
And show people your awesome solar-powered hot tub.