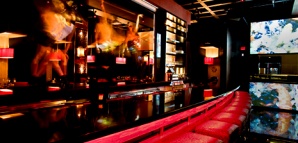 Clearly what this city has been missing is a sushi restaurant with live dancers on the bar.

Here to address this gaping void: Hot Tuna, not-so-quietly accepting walk-ins starting tonight.

Combining two timeless crowd-pleasers, dinner and theater, this new Washington Ave spot is Nobu meets Coyote Ugly (in the best possible way).

Allow us to set the scene: You settle into one of the high-backed red and black booths with bordello-like lampshades, or grab a seat at the black granite bar for a night of sashimi and sake feasting. About halfway into your meal (or every hour and a half), the two-way screen that separates the bar and the dining room comes alive with an animated film of Samurai drummers announcing something truly awesome. The screen then retracts, revealing a catwalk-like stage where dancers clad in multi-colored kimonos regale you with a rock-and-roll music video come to life (the canon includes "Shook Me All Night Long" and other masterworks). The bartendresses join in as well, creating a leg-kicking spectacle that lasts three minutes...but just might stay with you for a lifetime.

When it's all over, you're free to return your attention to dishes like filet mignon served on a hibachi grill, and white miso sea bass with shimeji mushrooms.

Because the food is really why you're here.