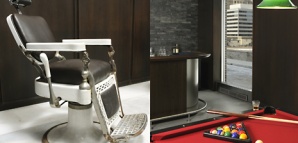 Let's look at your week ahead: Check email. Return calls. Haircut. Shoeshine. Pull company from the brink of bankruptcy. Scotch. Seems like you'd benefit from some multitasking.

Introducing John Allan's, opening Thursday, a mashup between Color of Money and Barbershop, with a dash of Cheers (Gordon Gekko now plays Norm).

The action takes place on the 25th floor of a Financial District tower. You'll take a private, walnut-lined elevator up to the space, where a hostess greets you by name and escorts you to a waiting area appointed like an executive fantasy-suite: There's a pool table for a quick round of nine ball, and in the summer, you'll ruminate deeply on your upcoming haircut from the outdoor terrace. Of course, you're also welcome to watch CNBC on the plasma above the bar—though Bartiromo will be more entertaining once the liquor license comes through.

When it's time for the cut, you'll take your seat in a cushy club chair and receive a hot-towel facial, still the best five-minute stress reducer terrycloth can provide. Then, while you're being trimmed up, a manicurist simultaneously buffs those keypad-sore fingers.

The whole, streamlined shebang is covered by your yearly membership. Throw in the post-cut shoeshine, and you'll probably recoup the cost by April. And if you need added relaxation, schedule a private massage.

Some things require your undivided attention.