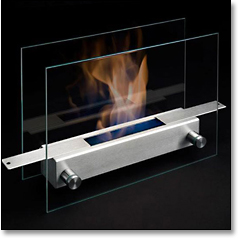 In case you hadn't noticed, the incredibly cold season known as winter has arrived in full force, bringing with it an opportunity for you to make your office a little more...fiery.
Presenting the
Apollo Tabletop Fireplace
, the first step in transforming your workspace into a seasonally equipped hand-warming paradise.
You've often complained that your office isn't enough like a Swiss ski chalet—especially since HR nixed your stuffed deer head—but this glassed-in fire trough should get you a bit closer to the winter wonderland you so richly deserve, one without clattering radiators or an industrially ugly space heater. Instead, you'll have a mini-hearth to warm your hands at, complete with a conveniently marshmallow-sized opening at the top for a little in-office roasting. (Chestnuts sold separately.)
Of course, the hearth isn't much bigger than a computer screen, but it's the fire that counts. A pair of adjustable glass doors lets you choose exactly how much flame you want to see—which will probably depend on how far the thermometer dipped today—and if you want to heat things up with a few unwanted memos, you certainly won't have to bother with the shredder.
Unless you need kindling.