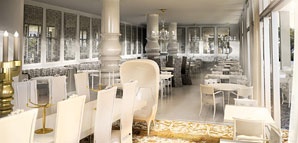 It's hard to think about next week, what with your social calendar chock full of Basely goodness. But like it or not, the party ends this weekend, and come Monday you'll be longing for something new and shiny to play with.

And here it is. Asia de Cuba officially opens Monday.

Located in the new nightlife-friendly Mondrian hotel, Asia is the latest arrow in restaurant maestro Jeffrey Chodorow's quiver (it's also the latest restaurant in your quiver—and my, what a quiver it is). The design leans toward high drama with a future Victorian look (think Oscar Wilde on a lot of acid), so you'll see exaggerated proportions on everything from the bell-encased chandeliers to the massive lampshades (we sort of feel sorry for the lamps).

For maximum flamboyance, reserve the 24-person communal table (like Marilyn Manson did at the hotel's opening), complete with blazing candelabras and floor-to-ceiling bay views (you'll feel like a count...with a much better tan). For a little less of a show, head for the "Kissing Gardens South," a series of hedge-framed, massive wooden-tabled al fresco dining areas. Start with beef dumplings and mango ponzu, and work your way toward a palomilla of roasted lamb, Cuban barbecue chicken and sides of lobster-boniato mash. And lots of sake.

Remember, you're in mourning.