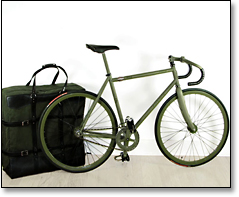 You like your bike.  
It gets you from Russian Hill to SoMa in no time and keeps the dream of having a six-pack alive—abs, not beer (but since we're dreaming, both).  
Problem is, you've got to leave it behind when you jet off to bike-friendly locales around the globe like Amsterdam, Portland and
Lance Armstrong's house.
 
Consider the Freeman Track Bike, a custom-made, foldable bike-in-a-bag hand-built by two frequent-flying Montana craftsmen looking for an easy way to travel with their bikes.
 
Not only does the bike break in half with ease in ten minutes (using one little wrench that's included with your bike) and fit into its own Billykirk waxed-canvas and leather bag (that's FAA-approved check-in luggage), but it also rides as well as your Trek. Which means the Freeman can also be your everyday ride thanks to its durable, hand-welded steel frame and top-of-the-line carbon fork (one step down from a carbon spork).
 
And because the bike is made-to-measure, you'll personally select your components—from the pedals (we like the double-strap ones) to the seat and wheels—and they'll even paint it any color you choose (if only herringbone was a color...).
 
Since Freeman is a two-man show that requires welding and painting by hand, you can expect a six-week wait for your bike.
 
But rest assured, it'll fit you like a glove.