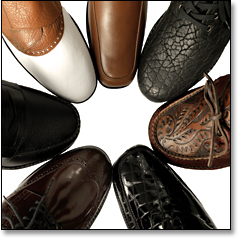 Yesterday's debut of the slushy, salt-strewn sidewalks that will be your life for the next four months or so left you thinking one thing: Damn. My beautiful shoes.
Things are only going to get worse, so we think you should plan for their replacement now. Introducing
Tauer & Johnson
made-to-measure shoes at Andrea Vangna, letting you take your feet into your own, uh, hands.
The Mt. Prospect-based brand is the newest bespoke offering from the custom clothier, who's been bringing you made-to-measure shirts and suits for a while and figured it was time to move below the ankles.
After your feet are measured—length, width and the girth of your metatarsal (we're sure yours is huge)—you'll be able to fulfill your lifelong dream of unleashing your inner Salvatore Ferragamo. Pick the color, the sole and the style (something in a boot might be nice). Then you'll come to the most crucial part: choice of leather. You'll be tempted by the supple elegance of Italian deer skin. You will flirt with crocodile, alligator, stingray and ostrich. But ultimately you will make the wise-yet-still-badass choice of
burnished bison skin
—a sturdier leather, able to deal with anything the Hawk can dish out.
Your specs are sent to the shoemaking capital of North America (Leon, Mexico—who knew), where third-generation cobblers start stitching. Six to eight weeks later, your shoes arrive.
By then, you'll need a little spring in your step.