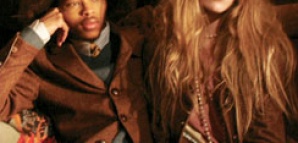 The pitch
: Four buddies from Southern California launch a clothing label out of their dorm room, win a ton of awards and surf off into the sunset. While this sounds like the next
FOX
reality show or a spin-off of the O.C., it is actually the story of fashion upstart
Trovata
.
Think of
Trovata
as the company Max Fischer would have started if he wasn't too busy writing hit plays, and the clothes that Holden Caulfield and Ferris Bueller would be wearing if they were kicking circa 2005. The
Trovata
look is part collars-up boarding school, part '60s surf shack. "We're subtle, not over the top," says one of the founders, John Whitledge. "East Coast lifestyle meets West Coast ease."
This fall's line is called
Pompous and Penniless
, describing the wardrobe of the fictitious East coast family the
Fitzgilberts
, who have squandered away the family fortune. The rumpled corduroy suits lined with floral prints and striped cotton jersey polos apparently outfit the prodigal son "Garret," a freeloading vagrant in millionaire's clothing. This season's items have more elements of formality and luxury details than the past, like Brooks Brothers-style dress shirts with printed cuffs, tweed smoking jackets with satin lining and cashmere sweaters with roughly cut leather elbow patches.
Fans of the line include Luke Wilson, David Beckham and The Shins. Besides earning street cred, Trovata won the Ecco Domani Award for Menswear 2005, and is a nominee for the primo CFDA/Vogue Awards. Since word of mouth has been their best seller, they've spent more time waxing their boards than waxing poetic on PR, letting us put on some Trovata and wax a little something else.