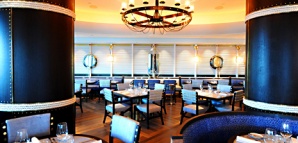 As much as you love the homegrown thing, there's just something about a good import. Cuban cigars, Italian sports cars, women from...far away.

And today brings the much-buzzed-about immigrant Scarpetta, an Italian restaurant honed on the cobblestone streets of New York's Meatpacking District, now open at the Fontainebleau.

Overlooking the ocean with a massive outdoor patio, Scarpetta goes nautical in a big, big way with compass-like tile, porthole windows and thick rope circling huge navy columns. If it all sounds a little too Pirates of the Caribbean, don't worry, the feel is much more Keira Knightley than Jack Sparrow.

Chef Scott Conant calls his cuisine Italian soul food, which means unpretentious, bowl-lickingly good pastas and sauces. Sidle up to one of the tables facing the Atlantic and tuck into his legendary spaghetti with tomato and basil, or try the cod with fennel and concentrated tomatoes. Access to the Fontainebleau's 15,000-bottle-strong wine library ensures you'll be wining and dining better than your counterparts up north.

Fortunately, the ambience is all locally produced.