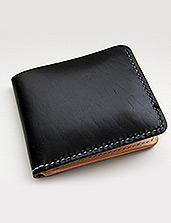 Presenting a cautionary tale. The setting: a bar.
You make eye contact with somebody stunning. You both smile. You approach. You say something charming, nod to the bartender and a couple Manhattans hastily appear.
And then... you pull out a cheesy wallet that looks stolen from a 16-year-old skateboarder.
The end.
Now, we know this would never, ever happen to you, but just in case: here's
Friday & River
, a handsome new line of leather wallets and other stuff made here in SoCal, available online now.
These wallets are stripped down to the basics—just hand-stitched swaths of grainy leather meant to get better with age. No secret compartments, no offensive studs, no weird origami-unfolding to get the thing open. Just rich and brown and sturdy enough that you could pass it on to a grandson one day. Anybody's grandson will do.
If you need something to hold non-money stuff—a lean case for your phone, a lanyard for your keys, maybe a custom pencil koozie—they can rustle you up one of those, too. (Though the last thing might require some smooth talking.)
And the "they" here is a married couple in San Diego. His last name means "Friday" in German; hers means "Big River Town" in Japanese. Hence Friday & River.
Better luck next time, Monday & Puddle.