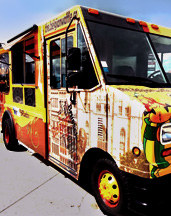 Food trucks: we've got plenty of those.
Sandwich trucks: we've got a couple of those.
Food trucks that serve sandwiches that use waffles for the bread: we've got zero of those.
Well... actually... perhaps you'd better check your math on that again.
Behold
The Belgian Waffle Co.
, a brand-new, straight-from-Belgium (by way of Austin) food truck that's revolutionizing how you eat waffles, now rolling on city streets.
To imagine this waffle house on wheels, just picture a waffle house... on wheels. There's the row of waffle irons. The imported Belgian batter. The inviting aroma of fresh coffee. But also: heaping piles of toppings like strawberries. And deconstructed s'mores. And sausage. So... a bunch of things you like.
Which means the next time you're craving a square griddle cake for breakfast/lunch/dinner/you don't really need a reason, check their
Twitter
or
website
for the truck's location. Because it's parking all over town. Think Cedar Springs, Oak Lawn and outside the front door of the Double Wide.
Once found, you might want to try a banana-topped cinnamon number. Or better yet, the waffle BLT sandwich (always good to see bacon get in on the action). And if you've got something like a birthday coming up, good news: this place caters.
Thursdays are kinda something like a birthday.