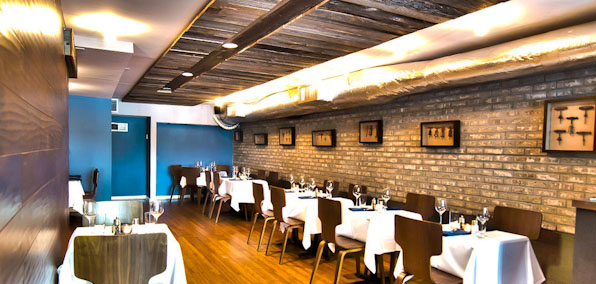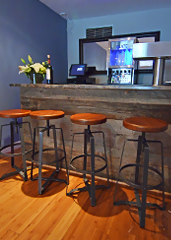 With the change in the seasons fast approaching, it's important to have something to look forward to. Like untold bottles of red wine.
But until then: untold bottles of white wine.
And, naturally, champagne (bubbles have no season).
Exhibit A:
Slate Wine Bar + Bistro
, an ode to the grape opening Friday in Glover Park.
In the former Kitchen 2404 space, this is the kind of small, understated place you'll go if you want to remain undiscovered—and do some discovery of your own in the form of Greek, Lebanese and South African wines (you're a one-worlder when it comes to the grape).
If you're with a big group, you'll want to start celebrating upstairs, where you'll find a diminutive four-seat bar and a communal table amid wine-themed photography. There, you'll order up vintage champagne and well-curated burgundies over dishes like steak frites,
Bourbon BBQ Salmon
and rum cake.
But with a smaller group (two is nice), settle in among the aged wood and rainforest marble of the downstairs bar. You'll tuck into Spanish antipasti of olives, almonds and serrano ham while you get to know a constantly rotating slate of rare and unusual wines by the glass.
And, hopefully, each other.