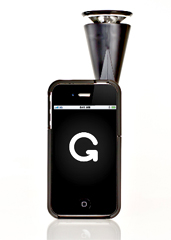 You don't have eyes in the back of your head.
Which is good. Because it sounds gross. Not to mention physiologically impossible. Unless you're an owl. In which case, that's probably close enough. But still.
Anyway, we may have just stumbled upon the next best thing...
Having a camera in the back of your head.
Kind of. Strike a really technologically advanced pose for the
GoPano Micro
, a new iPhone lens that lets you record panoramic, real-time, 360-degree videos without moving an inch, available now.
This is kind of like one of those virtual-tour video things that realtors use to let you check out listings and whatnot. Only instead of looking lifeless and boring, it looks... exactly like real life.
Step 1: download the free app. Step 2: attach the lens to your phone. Step 3: be James Cameron. Or at the very least, someone who can shoot a live video from the front row of a Black Keys show (or Linda Ronstadt, if you're into Linda Ronstadt instead) while shooting everything that's happening behind you at the same time.
Something about curved mirrors and the funneling of light. It's a science thing. Oh, and it'll also let you automatically upload your videos to Facebook and Twitter once you're done recording.
We hear 360-degree Linda Ronstadt videos are trending.