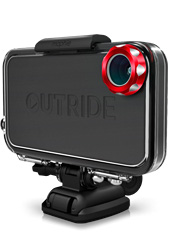 We have no idea what you have planned for the rest of the year—a bit of surfing here, a bit of mountain biking there—but we're willing to bet it's going to be extreme. Yes, even the leaf blowing.
So you should totally hire a camera crew.
Or failing that, at least strap this thing to your equipment.
Introducing
Outride by Mophie
, a hardware/software combo that turns your iPhone into an extreme sports camera, coming soon.
You've probably seen those gorgeously shot HD films on cable of crazy athletes risking life and limb among scenes of unparalleled natural beauty.
Well, you can't make one of those with this case. But you can come a lot closer than you could without it.
Step one: stick your phone in the waterproof, shockproof case. Step two: use one of the included quick-release mounts to attach it to your board, handlebars or batting helmet (you know, to capture your home-run trot).
Step three: use its 170-degree, wide-angle lens to capture all your feats of derring-do.
Yes, you should put it on top of your sandwich.