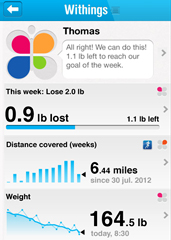 You: in great shape. Your abs are chiseled. Your lats have a Facebook fan page. Your glutes are negotiating for their own reality show.
But glory comes at a price. Currently, you have approximately a million workout apps (give or take 999,997) keeping tabs on anything from your running mileage to your sleep cycles. So your smartphone: getting kind of flabby.
Here with a diet:
Withings Health Companion
, which is essentially a single convenient dashboard for all your health-related apps, available now.
This comes from a group of people who developed the first bathroom scale capable of tweeting your weight. In other words, it's a company that knows what's really important. And saving you from switching back and forth between multiple apps certainly qualifies.
Now, for this to work you'll need to use a few of their partner sports apps—such as BodyMedia (which is an armband that communicates your daily activity to your phone wirelessly), Zeo (a headband that monitors your sleep cycles) and RunKeeper (which uses GPS to monitor your daily running, walking and cycling). When you do that, you'll be able to just glance at this app to get your heart, weight, sleep and activity data in a single graphical readout.
Go ahead, be a little lazy for a change.