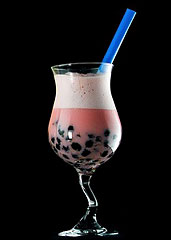 Bubbles.
Great in champagne.
Great on
The Wire
.
Great if that's your first name and you're looking to become an exotic dancer.
Also, great if they're filled with tapioca and able to cure a hangover.
Presenting (drumroll, please…)
The Bubble Tea Truck
, a mobile café that's serving rejuvenating Hong Kong–style bubble teas and avocado smoothies, planning to be at 12th and Peachtree this Thursday.
You know bubble tea. It's that weird drink from Taiwan. With the bubbles. And the fruit. It's very refreshing.
Well, there are these two guys who also know bubble tea. Like, really know it. (One grew up on the stuff in Hong Kong.) So they got a truck. Painted it yellow. And filled it with bubble tea. Naturally.
And you care because you occasionally get thirsty. Also, because it's yet another thing for you to spike with rum.
So follow them on
Facebook
. Then, next time you're in need of a caffeine fix, head to the truck. They'll have a bunch of flavors (think
coffee milk tea, taro, kiwi
). Also, a bunch of bubble types. Tapioca pearls. Lychee. Rainbow jelly. Pick a combo, any combo.
Unless, of course, you're hungover. In which case, opt for the grass jelly tea. It's sort of a Japanese hair of the dog. Tastes like black licorice and Robitussin.
But, you know, less medicine-y.