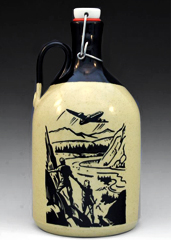 Picture your face.
Now picture your face as a handmade ceramic jug for housing beer, whiskey or moonshine.
And now relish in the fact that we found a way to make it happen.
Yes, it involves Montana.
Behold:
Carlburg Pottery Handmade Growlers
, custom, one-of-a-kind hooch-holders from Big Sky Country, available now.
Think of these as exactly what you would probably create if: a) you were skilled at pottery and b) you owned a kiln (we're actually surprised you don't already). But you're not creating them. A guy named Tim is, at his family-owned shop near Glacier National Park (an overlooked stronghold for artfully crafted claystuffs).
Begin by
dropping them a line
to describe ideas for color, chosen wording and imagery to be emblazoned into the clay (that high school graduation photo of your brother should work well here).
Then choose from different styles, from ones stemming from a general cast mold, to single lumps of clay on a potter's wheel, to their individually sculpted Uber growlers, which endure multiple kiln processes of hand-painting, glazing, under-glazing and over-glazing (you do love a good glaze).
You can even order handmade face jugs, which can be painstakingly created in the image of your favorite character, or actual person.
The time to drink hooch from Antonio Banderas's head is now.