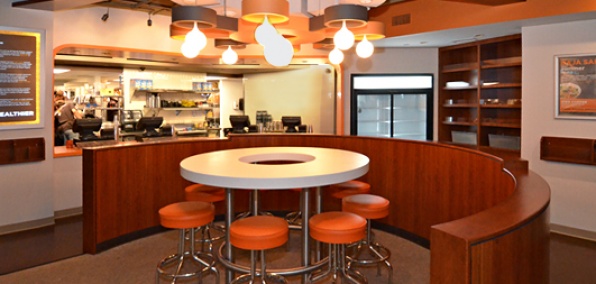 Another weekend, another ultramarathon.
Okay, maybe not.
But a hangover... that's a distinct possibility.
Either way, we've got something that can help.
It's called
Protein Bar
, it's out of Chicago, and it opens in Penn Quarter on Wednesday to assist your body with just about anything, whether it's extreme athletics or extreme... taverning.
All sleek white and wood inside (dare we say, it even
looks
healthy), this is the place to start your New Year's resolution in August (you know, to follow up your Christmas in July).
If you're a vice presidential candidate looking to maintain your 6% to 8% body fat, you'll want to head in before work for scrambles, wraps and a
Pancake in a Bowl
(basically a vanilla pancake in oatmeal form) and come back midday for
protein-rich burritos
and quinoa bowls piled with buffalo chicken.
But if you spent the night playing a political convention drinking game, may we suggest you get in for restorative shakes like the
Monumental Perk
(basically your morning coffee with 34 grams of protein jammed into it) and the
Federal A'Peel
(banana, peanut butter, chocolate protein).
You're also free to add boosts like the
Flu Fighter
or the
Hangover
.
It's much better than the
Hangover Part 2
.