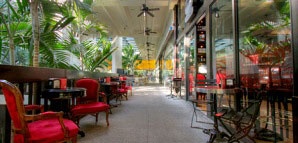 Mall time. It's a facet of your life in Miami. And while you recognize the benefit of doing all your shopping under one roof, you'd prefer if it was combined with other necessary activities. Namely, drinking.

So allow us to introduce Segafredo Bal Harbour, a discreet hideaway in the swanky mall by the beach, ready to fill your glass with a strong one when you need it most.

The Shops have always attracted a nice bouquet of comely shoppers (from your Tory Burch-types to your Versace vixens), so it's fitting that there's now a place to rest and take in the sights after your annual Vilebrequin run. Tucked away in a secluded upstairs corner of the mall, it's a tasteful, older-seeming sibling of the Brickell location, with a little more privacy—and subtlety—than the original.

You might start with the Jamaican coffee spiked with rum and Tia Maria. Followed by a Montecarlo, made with espresso, Sambuca and mint cream. If things get a little crazy and the girls from Dolce show up, go with it. Even though the mall closes at 9, Segafredo stays open until 2am.

Consider it an after-party.