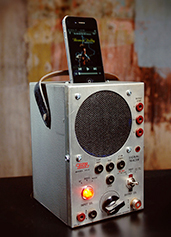 Let's talk about garbage.
Junk.
Old, outdated, hasn't-worked-since-the-early-'80s electronics.
The kind of stuff any normal person would throw away.
Or the kind of stuff you'd commission a craftsman on the Internet to turn into a vintage iPhone dock.
Behold
Relectronics
, an online shop where vintage electronics (like CB radios and transmission beacons) are repurposed into iPhone speakers, available now.
Think of this like reincarnation. For electronic equipment. A site that rescues things like bulky transistors and old car stereos from the scrap heap. And then guts them, cleans them and rewires them into fully functioning sound systems for your phone.
What this all means: well, you now have a humongous iPhone dock. So clear enough space on your desk for the reclaimed dashboard of a '66 Chevy Corvair. Or a '40s-era pilot's radio that's been outfitted with an amplifier, a three-way speaker and some quality bass.
But should your interests go beyond retro docks and charging stations... you're in luck. They also sell night-lights.
Yup, we didn't see that one coming either.