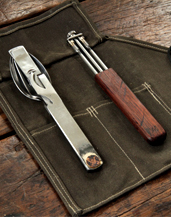 Ah, the open road.
That mythical place of freedom.
Of peaceful reflection.
Of realizing platitudes about journeys meaning more than destinations.
It really puts things in perspective.
Like how quickly all that can be totally ruined.
By packing an inadequate fork.
Introducing
West America
, an adventure-inspired shop that's outfitting your next camping/cross-country trip with rugged dining gear, online now.
This is really the story of two guys. Guys who were in the middle of planning a lengthy motorcycle trip through South America when they realized they'd need certain gear while camping along the road. Sturdy, practical stuff like fold-up grills. And rugged spoons. And collapsible skewers. So they did what any mechanically inclined guy would do. They built it themselves.
Which is good news for you. Because before you head out for forestry and cooler climes (so, across state lines and way north), you'll come here. Start with the camp utensil set, which includes a metal fork, knife and spoon and a can/bottle opener. Plus a handy sheath. Then get those collapsible skewers for all the wild game you're going to catch/hot dogs you're going to buy at the supermarket.
And down the line, stay tuned for more products. Because whatever else these guys might need on their travels, they're likely to build.
Here's hoping they need a collapsible tent with cable.