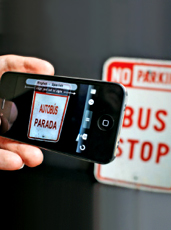 La Dolce Vita
: Italian, 1960.
Tie Me Up! Tie Me Down!
: Spanish, 1990.
Here Comes Honey Boo Boo
: Southern, 2012.
Each of these achievements in entertainment helped you understand other cultures, the human condition and the complexity of women. (Just trust us on the
Honey Boo Boo
part.)
Of course, the subtitles helped. So it's about time your real life had them, too.
For that, there's
Word Lens
, a handy app that translates written text in real time, available now.
You simply start the app, aim your camera and pass it over what you'd like to be translated. And voilà: you're grasping the meaning of a headline like "
El Congresista Jesse Jackson Jr. Sufre de Depresión Bipolar
" in
Hoy
. (Well, you probably could've figured out that one anyway. But still, cool stuff.)
It features translations for French, Italian and Spanish. So when you're truffle-foraging in the Loire Valley—and your poison-mushroom handbook is in French—you'll be happy to have this. Or if you're on a spy mission at a resort in Veracruz and you need to know what time housekeeping is coming, it's a lifesaver.
Also helpful if you're just on vacation in Veracruz.