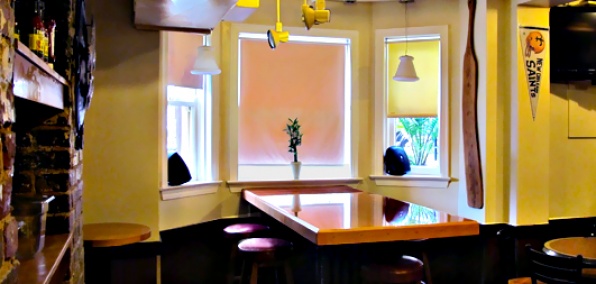 Nice lunch you've got there.
And yet, we can't help but notice the conspicuous lack of anything flown in from New Orleans. And also, it's not very... fried.
Good news: you'll soon have another option. Namely,
The New Orleans PoBoy Shop
, a no-frills sandwich joint from a Big Easy native, opening tomorrow.
They won't be open late (at least not right away), so your opportunities for French Quarter–style mischief may be limited (but feel free to stop by in the morning, when you can take advantage of DC's liberal open-container laws regarding coffee and fresh beignets).
Return for lunch and your choices will be a bit more extensive—
15 po'boys
, from house-roasted beef to cornmeal-crusted oysters, all on bread flown in from New Orleans. And keep an eye on the specials board, where you might find muffuletta, blackened catfish or Cajun-spiced meat loaf.
For the time being, unless you can score a seat at the communal table made from a giant, reclaimed iron radiator, you'll probably take your sandwich back to the air-conditioned confines of your office. But as the noontime sun gets a little less oppressive, you'll want to take up a post on the NOLA-styled patio, with gas lamps, wrought-iron planters and faux balconies in the windows.
BYO float.