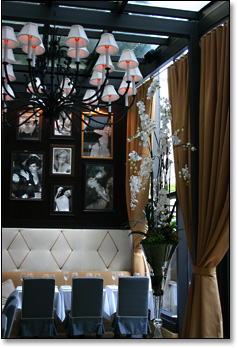 You've always had a thing for French accents. And African accents. And belly dancing.
So we think you'll like the Hotel Astor's new twofer, the reopened
Maison d'Azur
and the totally new
Layla
.
First, you'll want to get your bearings. As you enter the hotel lobby, head left for the bar and outdoor terrace, where you'll admire a rose petal-strewn fountain and the hotel's trademark water wall, now done up with mermaids (apparently they received your letters).
Indoors, the subterranean space presents two choices. There's the main room, with a French brasserie-style menu and black-and-white photos of Parisian starlets—stay here when you're dining your own Brigitte Bardot. Option B is Layla, with a menu of North African treats and a bar serving anise-inflected cocktails (ideal if your date mentions a fondness for Black Jack gum).
If it's privacy you require, reserve Maison's two-story wine room. And if it's women's tailoring you require (it's none of our business), hit up the atelier on your way to the raw bar, where a designer will sometimes be inside, musing and stitching. This also means that, in addition to occasional belly-dancing performances in the lounge, there are plans for live modeling throughout the restaurant.
Oh, if they must...