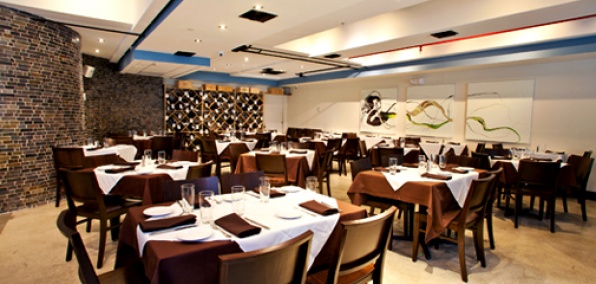 Top Gun.

Saturday Night Fever.

Purple Rain.

Your dinner.

Three of these things have incredible soundtracks.

And one of these things... has John Travolta.

Welcome Fabien's Bistro, a Frenchified date spot with cheese boards, foie gras and, coming soon, their own serenading string section, now open.

The vibe here: very Parisian. And very seductive. Which means you'd probably expect dark wood tables, white tablecloth service, a wine rack overflowing with merlot and at least one French maître d' who's endearingly snooty. And you'd be right.

So, date night—you've got a few ways you can go with that here. One would be a cozy corner table that's inside, secluded and adjacent to some wall-hung abstract art. Two would be a spot out on the patio. The ideal setting to split foie gras–topped tenderloin and a bottle of champagne. Or catch a concert.

Because in a few weeks, they'll have live music here. A troupe made up of local symphony virtuosos that'll serenade you, your companion and your veal blanquette.

Good strings come to those who wait.