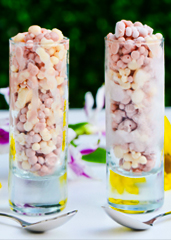 In case you hadn't noticed, it's been a big month for science.
The Higgs boson. A new rover about to land on Mars.
But wait, forget all that for a second. We just heard that humanity has finally figured out how to freeze cocktails into Dippin' Dots.
Get ready for the advancement that is
Drinkin' Dots
, premiering tonight off-menu at the new A Bar in the West End as yet another way to cool off with a cocktail.
These are an awful lot like Dippin' Dots, except that instead of innocuous flavors like bubble gum, these come in varieties like orange-rum-creamsicle and acai-liqueur-pomegranate. Also: they come in a shot glass, with a tiny spoon.
Of course, you don't give a man a liquid nitrogen tank and expect that to be the end of it. So once you've settled in at one of the outdoor lounge tables and cleansed your palate with dots, you can pick any cocktail from the list and get it flash-frozen for an extra two bucks. Like the rum-and-lychee
Crouching Tiger
, which comes with a flash-frozen lychee.
Nothing wins over the room like a round of frozen lychees.