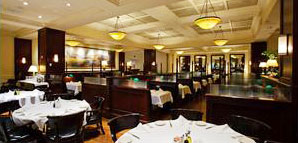 There's a certain kinship between Miami and LA. The warm weather, the auto obsession, the general fondness for surgery.

So it's no surprise that the restaurant known as the epicenter of Beverly Hills power players has elected to open its mahogany doors on our beach.

Welcome to The Grill on the Alley, opening this Monday and accepting reservations now.

Despite its sunny origin, this supper club's design is pure steakhouse. Dark oak floors share space with deep wooden booths offset by chrome liquor shelves lining the massive bar. For a power lunch spot, reserve the Table One, a chef's table for ten located directly in front of the open kitchen. It's a place where you might find Ari Gold, if he were a real estate mogul rather than a talent agent (and a fictitious character on a TV show).

In contrast to the West Coast spot, filled with agents, managers and waiters trying to break into the business, this outpost will cater more to the city's already aspired—hungry for beef rather than fame. Feast on the sixteen-ounce Prime New York Pepper Steak or the nostalgic chicken pot pie as you debate the merits of the Black and Blue mojito made with rum, lime juice and berries.

Some things are just better on this coast.