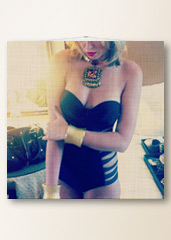 Well, this is it.
Your big day.
You're finally about to go into business for yourself. So congrats on that. Really. You deserve it.
Oh, right. You'll be creating a website and selling framed Instagrams of yourself eating nectarines on a picnic blanket in front of the Acropolis.
So... maybe more like a side business.
Strike a pose for
Instacanvas
, a new website that assigns you your own URL and lets you create an online gallery of your finest Instagram shots before they print them, frame them and sell them for profit on your behalf, available now.
It's that simple, really. You're about to create a website and sell stuff on it. Correction: someone else already created a website for you. All you need to do is claim it, upload some photos and collect money.
First, go to the site and log on with your Instagram info. There might be a "line" to create your URL. Wait it out. Be strong. Because once your gallery is activated and you slap some pics on it, buyers from around the world will be vying for your work. (Work. Grainy pictures of oysters. Same thing.)
Once someone buys something (they're about $40 a pop), your shot will be printed on canvas, framed and shipped off. Your cut: 20%. You know, price of business and all.
Not bad for doing nothing.