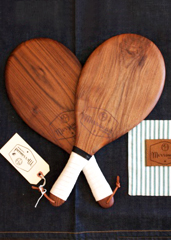 When you think of Brazil, a few things come to mind:
Soccer. Skimpy underwear. Topless beaches. (In no particular order.)
Today, we'd like to add one more thing to that list: frescobol.
Hear us out...
It's like beach paddleball. It can be top-optional. And we know where you can get started...
Meet
Merriment Hardware
, a new San Francisco–based paddle-making outfit singlehandedly bringing a time-honored Brazilian pastime to our shores, available online now and at Mollusk Surf Shop.
Okay, so, beach days here are nothing like beach days in Rio as far as bikini counts are concerned. But it turns out that windy climes and cool temperatures are well-suited for a fierce game of frescobol, which is a bit like racquetball minus the walls.
As for these paddles, the guys behind Merriment pick up slabs of felled hardwoods like walnut, cherry and chestnut in Petaluma and shape them into handsome, beach-ready paddles. Then, they use dip-dyed bike handlebar tape for the grips. Each set comes in a cotton bag with an orange rubber ball that they source out of Brazil. (As if you'd use a rubber ball sourced anywhere else.)
They've also got ping-pong paddles and skateboards in the works, in case things don't work out between you and frescobol.
But we think you two crazy kids are gonna make it.