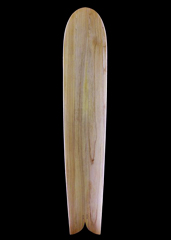 This week, you've been hearing about all kinds of crazy state-of-the-art sports technologies:
Swimsuits made of carbon.
Olympic events streamed live to your phone.
The magic that is Misty May-Treanor's beach volleyball uniform.
But today we go back to a simpler, pre-Olympics time. Specifically, 1800s Hawaii, a time of pineapple plantations, hula dancing and these...
Say aloha to
Ahua Alaia Surfboards
, possibly the most retro boards on the market today, available now.
What you have here are thin, round-nosed, square-tailed boards, made according to pre-20th-century Hawaiian tradition. And as you've probably guessed, they're made in... Portugal.
Your first step is a chat with the guys about your level of surf experience, other sports expertise, age, height, weight, etc. They'll assess your needs. Then you'll choose from four base models made out of lightweight paulownia wood, and they'll whittle it down from there. (You knew there'd be whittling.)
Then, next time you're at Ocean Beach, you'll go faster and deeper into tubes thanks to that aforementioned light wood and the total lack of fins, creating less drag and friction.
Whistling a Beach Boys song probably couldn't hurt, either.