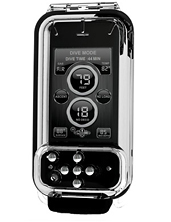 Think of the last time you were a hundred feet underwater.
The oceanic life before you: flourishing. In the distance, a mighty barracuda hovers over a reef. Required: a sumptuous Instagram shot that would make Steve Zissou proud.
Then you remembered your phone was still on the boat. And for that matter, couldn't even get wet.
That's not the case anymore. Thanks to this... case.
Meet the
iGills
, a Cousteau-ian encasement that turns your iPhone into a smartphone-submarine, coming soon.
This is essentially the phone-case version of those little protective submersibles James Cameron uses every time he visits the
Titanic
. It's specially designed to keep your phone bone-dry and fully functional at depths of up to 130 feet, thanks to its polycarbonate construction and some well-placed buttons (because polycarbonate walls tend to hinder touchscreen sensitivity).
Translation: you'll be able to snap pictures and shoot video of every sea creature you can imagine: jellyfish, dolphins, cheerleaders for the Miami Dolphins.
And if you'd like to live-tweet something or just make sure you're not at risk of getting the bends, there's also an
app you can download
. It's basically a digital log for tracking what's happening under the sea.
Or under the Gloucester canal.