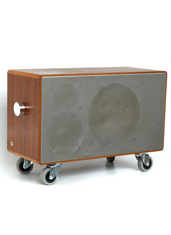 If there's one thing the Germans are known for, it's their sense of humor.
If there's another thing the Germans are known for, it's the ability to recognize sarcasm in UrbanDaddy emails.
So let's just fast-forward to the real reason we brought them up in the first place...
Their uncanny ability to convert vintage loudspeakers into speakers for your phone.
Prepare your licks for maximum tastiness with
Tombox
, a new collection of portable speakers and amplifiers for your computer, phone or MP3 player that rose from the ashes of some of the most handsome old-school loudspeakers around, available online now.
You know speakers. They're those things that make music louder. These are those. Except that 1) no two of them are alike, 2) they're designed to be carried around everywhere, and 3) they look like something Roger Daltrey would've set his whiskey on while writing lyrics and tousling his perm back in the day.
You'll hit up the unsurprisingly efficient site (the Germans never disappoint) and peruse your options. There's a black-on-black number from East Germany. A wood veneer box that might as well have been lifted from the offices of Sterling Cooper. And a few larger speakers (including old Brauns) have also been fitted with an amplifier, wheels and a black leather "leash." (The Germans
really
never disappoint.)
In other words, exactly the kind of bass-thumping throwbackery you'll want to wheel out to the pool before bestowing the masses with your Swizz Beatz/Engelbert Humperdinck mashup.
Or... a different one.